Post by countzackula on Apr 29, 2014 8:16:34 GMT -5
Ever since TRU got new Chap Mei fantasy sets in their True Legends line up, I've been craving it up for more new Chap Mei stuff! Unfortunately, I know lots of cool Viking and medieval sets got made, yet not readily released in the Americas (to my knowledge). Trust me...if you look online, finding said sets is not only tough, but EXPENSIVE. I've also been scouting casually for any cool Chap Mei knock offs, bootlegs or similars. I found some stuff by a company called DIY. Not sure if it's supposed to stand for anything. Anyway, aside form a set of six Roman gladiators, I also came across something far more interesting.
These guys are called BEAST ANGLE GLADIATOR. Yep. Weird. A set of six Chap Mei-like action figures with a humanoid beast warrior theme goin' on. Each has five points of articulation: rotating head, rotating shoulders, and rotating hips. Sadly, no weapons.
The packaging for these guys is a bit out of the ordinary. Apparently, the set I got came in these weird plastic pods. They are sealed shut by stickers which actually don't reveal the name of the toy line. These pods actually came in a cardboard PDQ display which had the name of the action figure line on the backer. I actually did not find my Beast Angle Gladiators in person, but online. Speaking of which...in my efforts to find out more about these guys, I found out they also came packaged in plastic rectangular window boxes similar to the other DIY figures from Gladiators of Rome. Also, they seem to have came in a large box set WITH weapons!
There are two sets (I guess you can say). Three are armored characters like knights, while three seem more barbaric with little apparel. This guy is kinda like a flightless humanoid griffin. I would love to see this guy with wings! I'm assuming he could be a heroic type of character.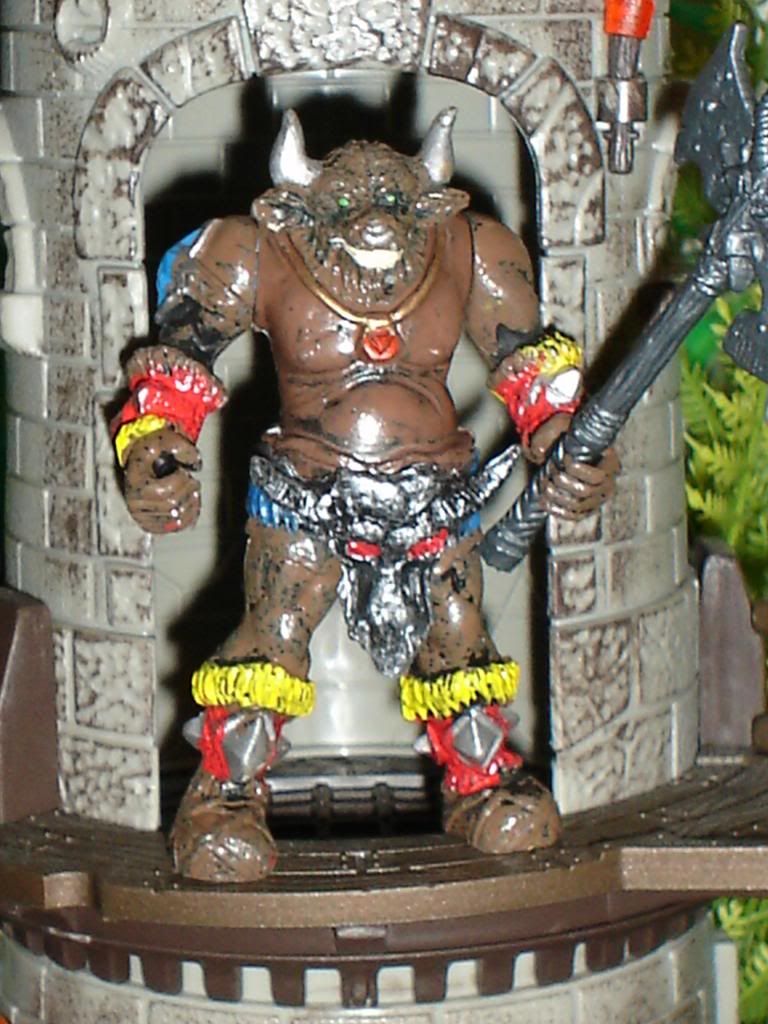 This minotaur guy is pretty cool, only I wish they'd have given him a bigger head and a bigger rack...OF HORNS! The general quality is fairly low on these, by the way. Not horrible, but not on the same level as the usual Chap Mei product.
Another armored guy is this boar-man. He actually has a little ponytail on the back of his head. Neat detail! You will also notice each character has a unique sculpt. Not parts seem to be reused.
The wolf guy is pretty cool, but like the minotaur, I wish his head would have been sculpted to be bigger. All the figures seem to be cast out of black plastic and fully painted. So, they almost seem like custom jobs at first glance. Some people may not be a fan of this since the paint looks a little rough...then again, my picture taking ability is also a little rough. So, I can't really complain.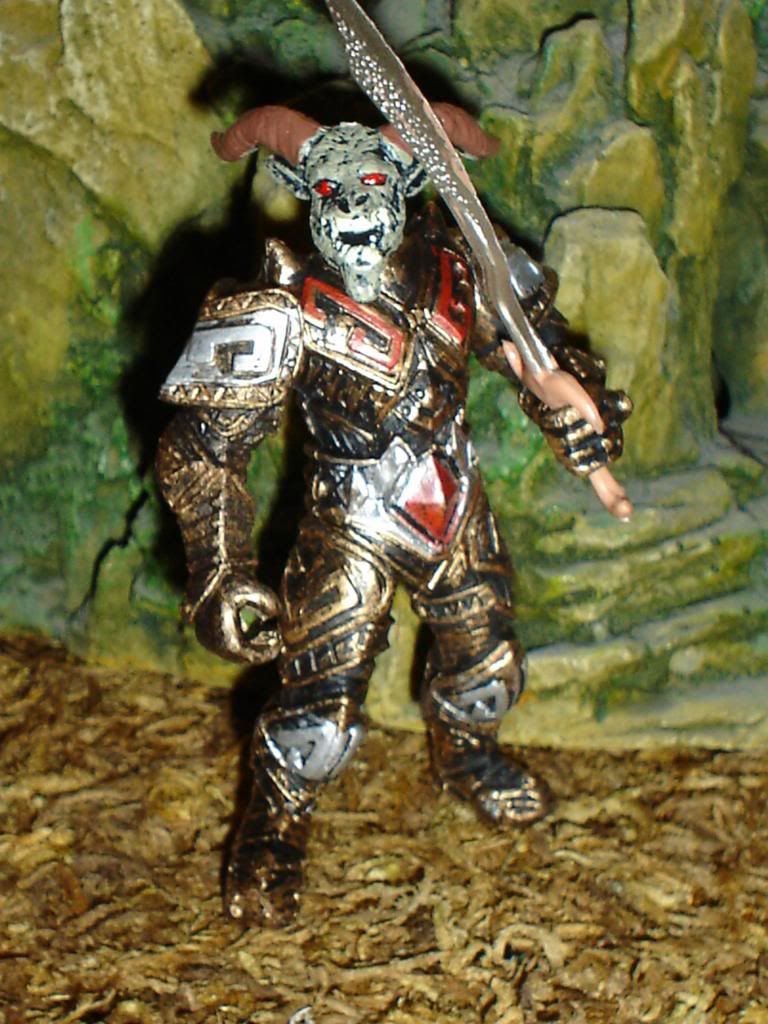 Probably my favorite of the armored figures is this guy. I guess he can be interpreted as either a goat or a demon. By the by...the weapons I have them holding are just borrowed from Chap Mei figures, in case you are wondering. I mentioned a six-pack including weapons, but I guess the singles did not include any type of accessories.
Last up is this ogre guy. Honestly, he reminds me of the Skeletor prototype that is Demo-Man! Just look at him. So, if you want a 3 3/4 inch Demo-Man knock off...you got 'im! One other point about the quality: the core body seems to be hard plastic, but all the limbs are made of a softer plastic.
I apologize for my crappy hit-or-miss photo quality. Eh...I'm not an expert. I can never tell how blurry my pics are until I upload them. At any rate, I think that despite their cheaper quality, these guys are pretty neat-o.
I myself was on the hunt for supplements to my sword 'n' sorcery styled Chap Mei figures and I found some. Even if you just like 3 3/4 inch figures or fantasy-themed stuff, these might be your bag. Keep in mind that they are slightly shorter than the usual Chap Mei figures.